Why Would You Do That? Dominican Republic 2018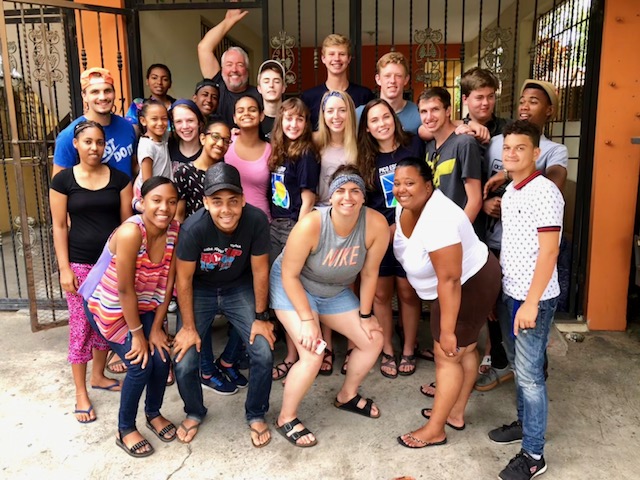 Why would you do that?
It's a question our team was asked both before and during our trip to the Dominican Republic. Often when we would share that we were going to the DR this summer people would think of vacation, resorts and white sand beaches. When we clarified that we would be paying to go work at a camp in the DR, many were left confused and wondering why anyone would pay to do that. I was talking with our Dominican host, Wally, and he shared how many people even ask him why Americans would come and pay to work.
We worked hard. Out of all the work teams that are going to Pico Escondido this summer, our group gave the most man hours—360 hours from the twelve of us in four 8-hour work days. Six of us sanded and painted over 400 pieces of wood to make six bunk beds. Not only did we sand and paint, we saw our project through and built and installed the beds in the rooms. The rest of the team helped to begin a summer-long project to build a plant nursery. We shoveled, pickaxed, carried wheelbarrows and shoveled some more. While these work days pushed us physically, emotionally and spiritually, we walked away knowing that we contributed to God's work in that place. We are a part of a legacy of Dominican kids getting to hear about the greatest love story to exist.
It is a humbling experience to go and be in a different culture and country. The weather was hot and humid, there were more mosquitoes flying about, we didn't get a gold star for every time we shoveled or pushed a wheelbarrow and the kids who will now sleep on the bunk beds will never know our names, but those aren't the reasons we did it.
Here are some of the reasons why we would do "that":
"I went on the trip for a fun adventure and to push myself in all aspects, including spiritually. Some think it's scary to go outside of what you know, I am beginning to learn it's scarier to ignore what you don't." – Reese Nilsen, second timer
"I went because I wanted to create more relationships with the locals and spread the word of Christ, even if there was a language barrier. I also wanted to see and reconnect with people I had connected with in past years." – Jack Harrell, third timer
"I went to experience Christ, serve the Lord and to spread God's love to all those impact by our work." – Bryce Hunter, first timer
One of our favorite songs on the trip was "El Mismo Sol." The song celebrates the fact that we all live under the same sun, and with that, love is all that is needed. We celebrated with our Dominican friends that we live under the same sun, but also that we love the same God and are all a part of the same family. If you see one of our team members around, ask them about our trip and hear stories of how God used them in our nine days in the DR.
Watch our Work Week Video!
Our team with our hosts Wally and Ana and the Summer Staffers.
Team Plant Nursery with their favorite shovels.
Team Bunk Beds with their finished product.
Bon fire night the last day at Pico. We got to worship with our summer staff friends and eat some s'mores!
Our incredible hosts Wally and Ana Iris.