Think Orange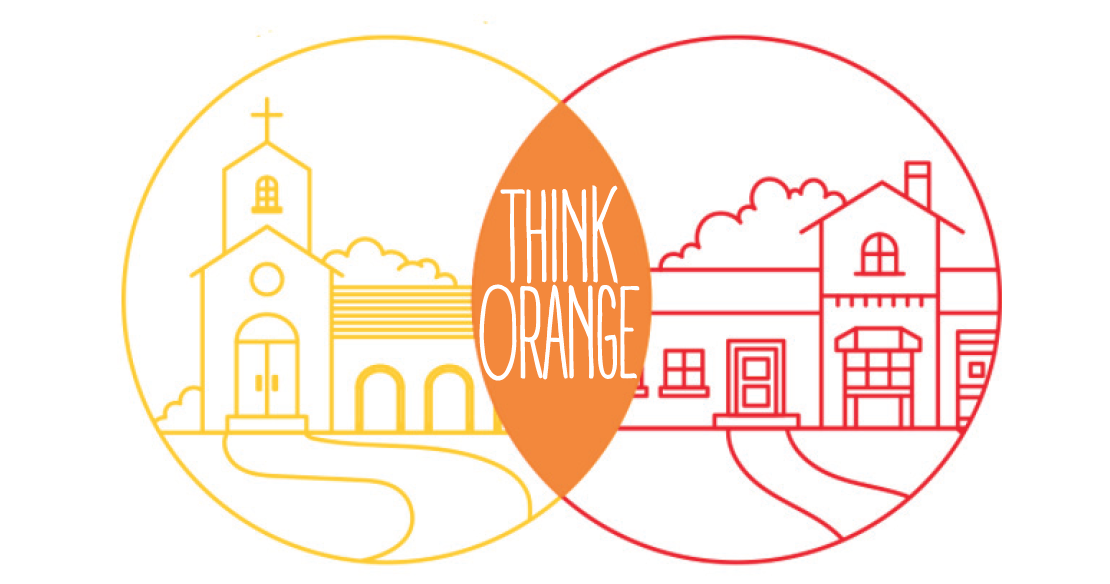 Great Things Happen when Church and Family Partner Together
How much time do you have with your kids in the morning before school or in the evening at bedtime? How much time do you spend in the car driving your kids to school, sports, band or other events? How much time do you have with your kids at mealtimes? And, this is the biggest question of them all: how do you spend those times with your kids?
These questions—especially the last one—make many of our stomachs tighten as less-than-ideal answers come to our minds. When we are honest with ourselves, we admit we're usually not making the best use of our time. Many mornings are spent scurrying to get ready, grabbing a quick bite and rushing out the door. And don't even ask about our bedtime routines! Many of our mealtimes are done on the run, or in front of the television or are crowded out by technology. And many of our times in the car are either spent keeping little ones from bickering, listening to the radio or riding in total silence with our teens.
The Bible instructs us to live otherwise. In Deuteronomy 11:18–19, God gives parents specific instructions regarding how we should spend our time with our kids: "Fix these words of mine in your hearts and minds; tie them as symbols on your hands and bind them on your foreheads. Teach them to your children, talking about them when you sit at home, and when you walk along the road, when you lie down, and when you get up."
While over the decades churches have done a lot of things well regarding teaching children and discipling parents, one of the places we have fallen short is in the area of equipping parents to do the things that God has instructed them to do. Recently in our culture, church programs and classes have been set up to make time for teachers and youth leaders to do the work of connecting kids to Jesus and helping them grow as disciples. Too few of our programs are designed with the idea that the church's job is to equip parents to take the lead role in developing kids into followers of Christ. So it's no wonder that many parents feel ill-equipped to make the most of their time with their kids.
That is why at First Pres we are going all in on "Orange" as an approach to ministry that endeavors to connect parents and church leaders for the sake of our kids. Knowing that God designed the family to nurture the hearts of children and that God designed the church to shine the light of Jesus, Orange strategy combines these two influences into a partnership that is effective in shaping the lives of children and students.
The church has an average of only 40 hours each year to invest in a child or student's heart and life. Our time with them is limited, so we need to maximize it. Parents have an average of 3,000 hours to invest in their children each year, and they are looking to the church for help in the important work of leading their kids to Christ and helping them to grow in their faith. Knowing that the family has the most potential to influence their children's relationship with God, it makes sense for the church to spend more of its energy and resources influencing families by partnering with parents in this all-important work.
Reggie Joiner, one of the founders of the Orange approach, breaks down Deuteronomy 11 and helps us to consider how we parents might spend our mealtimes, drive times, morning times and bedtimes intentionally leading our kids to Christ and in Christ:
Mealtime "When You Sit at Home"
Focused discussion as a teacher to establish core values.
Drive Time "When You Walk along the Road"
Informal dialogue as a friend to help your child interpret life.
Morning Time "When You Get Up"
Encouraging words as a coach who gives a sense of value and instill purpose.
Bedtime "When You Lie Down"
Intimate conversation as a counselor to listen to the heart of your child.
Whether these thoughts sound intimidating or inspiring to you, know that the entire Family Ministries Team is dedicated to partnering with families in the vital work of raising kids to love and follow Jesus, not only for a season, but for their entire lives. From the Nursery to our Preschools to Children's and Student Ministries to MOPS, may God richly bless our labor together as we link arms on behalf of families in our church and our community.
View all Family Ministry Month Stories >>