The Adventures of an Old Man in Mongolia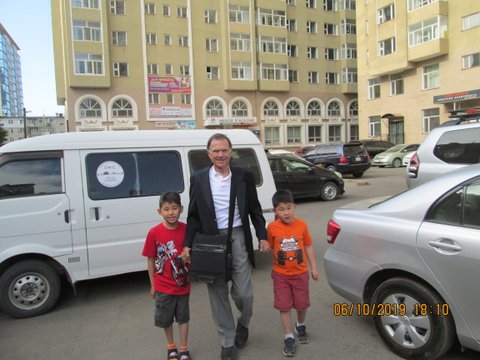 Don Wallace, member of First Pres, shares about his recent experience visiting Mongolia, one of our Global Engagement Partners.
When I retired from being a junior high principal I asked the Lord "What should I be doing?". He said share what you have learned with the younger generation of believers. Never did I expect that to lead to this, my 14th trip to Mongolia, which was one of the most productive trips I have had. It included sharing "How to Know God Better" through a devotional model called "Seven Minutes with God' and teaching them to do a Verse Analysis Bible study that they could do as well as do with others. This was done with 7 different CRU teacher leadership teams in the northern part of Mongolia, as well as a group of couples in Ulaanbaatar. One of the highlights was to hear from one couple that they were doing the Seven Minutes with each other three days a week and four days on their own. Another highlight from that group of teachers was to hear about a man named Baljinnyam, a Buddhist priest. While in prison for embezzling, he was given a Bible and became a Christian. He is now planting churches!
The last part of my trip was spent at Summer Camp for the military cadets, officers, and Cru staff members. We studied Jeremiah 12:5 on how to grow in our faith and the obstacles, as well as the victories, we would experience. This was another opportunity for me to share with the younger generation of believers how the Lord had helped me grow for the last 66 years. This is so important because the Mongolians are just in their second generation as a church and they do not have examples of God's faithfulness over a long period of time.
All of this was done over 15 days traveling in planes, trains, and automobiles and sleeping in 10 different places, which is a great adventure in itself.
Teacher Leaders Conference in Erdenet
Couples Bible Study in UB
Military Leaders at Summer Camp
Ebo, Nergui and their family
Learn more about our Mongolia Partnership >>