Giving Changes the World Around Us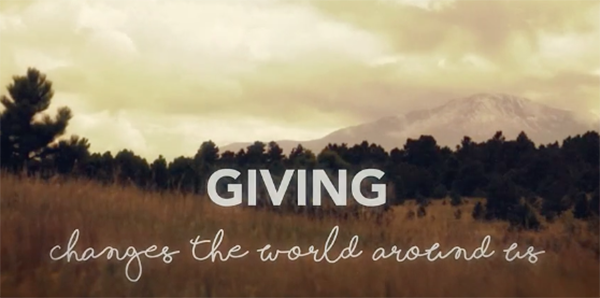 "We give to change us, and in changing us, God changes the world."

- Lead Pastor Dr. Tim McConnell
What is God Doing Through Our Gifts?
This video introduces nine stories (among dozens!) of how the generosity of the First Pres family is making a difference in Colorado Springs and around the world:
Marian House Soup Kitchen - We partner with Marian House in a multi-organization effort to minister to homeless people, and ultimately to end chronic homelessness in Colorado Springs. Marian House serves hot, nutritious meals to anyone who is hungry in our city, 365 days per year. A team from First Pres has been serving Tuesday lunch at Marian House every week for 28 years. And First Pres giving provides 5,000 of the meals served every year.
Springs Rescue Mission - Another key player in the effort to end chronic homelessness in Colorado Springs, Springs Rescue Mission provides hot meals and a winter overnight shelter for the homeless, a residential addiction recovery program and access to social services.

Part of First Pres' 2016 Give Back the Blessing Offering (Palm Sunday's special offering) supported SRM in their current campus expansion, which will grow the Mission's offerings from a 63-bed winter shelter to a 150-bed year-round shelter, and from 70 dining room seats to 200. The campus expansion will also add a day center—the first of its kind in the region—offering case management, health and mental health support, access to computers for job searches, laundry and shower facilities.
Refugee English Classes in partnership with Lutheran Family Services - Lutheran Family Services of Colorado is dedicated to helping vulnerable refugee and asylum-seeking families rebuild their lives by equipping them to achieve self-sufficiency within their first year in the United States and fostering integration into their new communities. During the summer of 2016, First Pres partnered with LFS to offer English as a Second Language classes on our campus at no cost to refugees. While parents studied, their children were lovingly cared for in our nursery.
Aswan Evangelical Church is one of two Egyptian churches with whom we partner. First Pres' 2015 Give Back the Blessing offering helped to rebuild their crumbling, century-old building, and now they have a brand new worship center that serves as home-base for a vibrant outreach to their primarily Muslim community.
Thrive partners with First Pres in our efforts to bring renewal to the struggling southeast region of Colorado Springs. Believing that entrepreneurship is one one of the best ways not only to stimulate the economy, but also to revitalize hurting communities, Thrive provides potential entrepreneurs with a one year intensive program of education and access to connections, mentors and scholarships. First Pres giving provided scholarships for an entire class of students, and through those entrepreneurs' success, all of the scholarships have been paid back, allowing another class to continue their education and begin to thrive.
Mongolia Partnership - First Pres' ministry in Mongolia goes back to the very first days of the Mongolian church's existence. The gospel took root in that country for the first time in the 1990s, and we have had the privilege of bringing Bible teaching to young believers who have never had the chance to study Scripture before.
Don Wallace, the speaker in the video, has led a Bible teaching retreat called Solo for military officers, police officers and other public servants, placing the truths of Scripture into the hands and hearts of Mongolia's cultural influencers.
Panorama Middle School - A partner in renewing Colorado Spring's Southeast region. Our longstanding relationship with Panorama Middle School was strengthened during Loving Our City (now CityServe) weekend 2015. Because of the no-strings-attached offer of help, Principal Elizabeth Domangue was deeply encouraged in her efforts to overcome significant financial and environmental challenges and provide a first-class learning experience for her students. First Pres was also able to make a donation to start a fund for a new technology lab at Panorama.
Cuba Prison Ministry - Through First Pres's partnership with First Pres Havana, mission teams have been able to train Cuban Prison chaplains to listen and minster to prisoners in some of the world's darkest prisons. Several prisoners have declared faith in Christ and have been baptized.
Family Promise - Formerly Interfaith Hospitality Network, Family Promise shelters families who would otherwise be homeless in churches around Colorado Springs and is part of the multi-organization effort to end chronic homelessness in our city.
First Pres hosts Family Promise families at least four weeks per year. Our next opportunity to offer warm, safe beds and hot meals to these neighbors is coming up November 27 to December 4. Sign up to Volunteer here.
---
Film by 550 Productions