Final India Update - 2018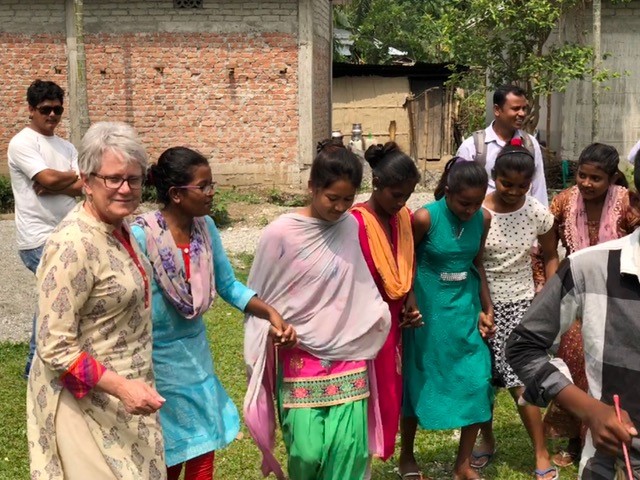 I am flying home from Delhi full of hope and joy for what our team experienced while in India. In debriefing with the team and reflecting, I was reminded repeatedly of the value of relationships as we join God in His mission. Our team stepped into the midst of significant and longstanding relationships with Pastor Mathias Subba and his wife, Yanki, brother Mathusela, and several other people in Kalimpong. The trust we have forged and the prayers we have lifted on one another's behalf have created strong bonds as partners in the Gospel.
Business Training Course
The business training we facilitated went very well and was received with enthusiasm. We were told it was the best training that Presbyterian Free Church of Kalimpong has ever offered. There are several reasons for this comment. Among those was the preparation of the team, their willingness to welcome and care about their table groups, and the overall tone of the training.
We began each day with 30 minutes of music, prayer and a devotional. The approach to training is based on self discovery, group interaction and activities. This kept everyone interested for the entire week, and modeled an important, different approach from what I had been used before.
One section of the course encourages participants to conduct surveys to assure that their business ideas meet important local needs. Pastor Victor from a country that neighbors India shared his ideas about an opportunity to meet a significant local need: Christians in his area are not allowed to bury their dead, as the majority culture prohibits this practice. Victor would like to provide closure for grieving families by purchasing a vehicle to transport their loved ones to India where they can be laid to rest with dignity. Needless to say, that is quite a unique business opportunity, and one that stunned the entire class. Victor provided perspective about why one would want to start that kind of business, and how it can meet an important local need. His idea also illustrated the connection between faith and business, which was a heavily discussed topic throughout our week of training.
Kalimpong Update
The community of Kalimpong is still recovering from the 100-plus day political strike that occurred last fall. So the timing of this business training was good. Our team visited the hostel operated by the Presbyterian Free Church of Kalimpong. There were 70-80 children with whom we shared songs, silliness, some candy and prayers. First Pres donors who gave to that project in the Something Significant for Christmas catalog can be certain that the children who live there are well cared for.
Wrapping up our Trip
We spent last Sunday in the district of Duars. We shared worship with the Nangdala congregation receiving a traditional welcome complete with dancing, singing, drumming and garlands. Alan Jacobs preached on the topic of the Christian home. The team visited several Touch of Love International projects. Being out in these remote villages helped us understand the cross-cultural nature of the ministry and churches there.
We enjoyed two days of sightseeing in the Sikkim and Darjeeling areas. What a privilege to have local guides who want to share their culture and help us understand their ministry context. Some of the evangelists and pastors who participated in the week of business training met us and shared their local community. Their place is beautiful! The younger of these two walks an hour to get from home to the church building. He also travels by foot to share Jesus with others, disciple young believers and help with pastoral care. They are very committed people who inspired me!
I am ever grateful to God for the relationships and experiences He has given me to understand more fully what it means to be part of the Body. Very rich and meaningful ... humbling too! To close as I started, experiencing relationships within the body of Christ is a distinct and purposeful pleasure that is filled with immense joy. Together, we are something much more than individuals who call Jesus Lord and Savior. We are a reflection of His goodness, a gift to one another and an example of unity and oneness.
This was a great trip and an excellent example of walking alongside a local body of Jesus followers to provide encouragement, opportunity and hope. Will you continue to pray with me for God to guide the participants in our training? Ask the Lord to inspire them as they dream, plan and put into place ideas for generating income that will allow them to do ministry and still support their families.
Please join the India team as they share more about their trip on Monday, May 14th at 6:30 in room 435.