A Cathedral of Astonishment
We only have two weeks left to talk about The Beautiful Story. I hope we are all learning a little bit of new language to tell the rich story of God's love, the "ordo salutis" or mystery of salvation, the redemptive history, God's great and everlasting engagement with the world He made and the people in it. Wow! It's the story of everything. And it is imbued with awe-inspiring beauty at every step.
Too often we obscure the beauty of it all, when the beauty is exactly what the world needs to see. We see our faith as small, compartmentalized and easy to handle. The truth is, if we are to follow Christ into the life He has for us, we will find it full of mystery and astonishment. Pastor Brian Zahnd wrote a book a few years ago called Beauty Will Save the World, (a quote from Fyodor Dostoyevsky). Here's a bit from Zahnd's book:
"What we need in our faith, theology, and witness is to build a cathedral of astonishment. Or more accurately, we need to rediscover and preserve the cathedral of astonishment that is authentic Christianity when it is imbued with mystery and beauty... Christianity is not a tool or a ticket or a talisman-it is a cathedral! You cannot use it or own it or possess it any more than you can use, own, or possess a Gothic cathedral. You can't put it in your pocket like a wallet, a pocketknife, or a lucky penny-you can only enter it. Christianity is not something you 'add to your life'; it is something you enter. And you enter it on its own terms, not yours. Christ is the door that leads to this astonishing cathedral called salvation. To enter into authentic Christianity is to leave the shrunken world of staid moralism and sterile pragmatism. It is to enter a kind of cathedral that is so big, so beautiful, so astonishing that worship is the only acceptable response." (Brian Zahnd, Beauty Will Save the World)
After incarnation, after crucifixion, after resurrection and ascension, what more is there? There is life in Christ for you and me, a mission headed toward a Kingdom. To walk through that door with Jesus ... well, it is to enter a new world entirely, a cathedral of astonishment, wonder and beauty. I hope you will. This week we hear about the Beautiful Mission of the people of God. Then on October 25, we will talk about the Beautiful Kingdom where the children of God are headed, and we will make our stewardship commitment to support the mission of the church into 2021. Beauty, the beauty we call Jesus, He will save the world!
Visit my.firstprescos.org/subscribe to receive messages like this one by email each Tuesday, along with links to First Pres news.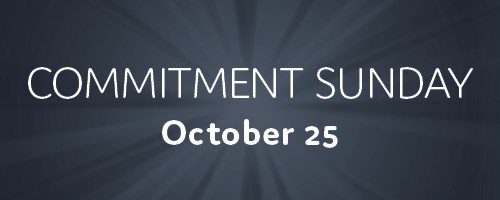 Glorifying Our Father
Sunday, October 25
As we gather for worship on October 25, we will commit to lay resources before God for ministry in 2021. Commitment Sunday is not just a financial day. It's about glorifying our Father in heaven-what new ministry is He calling you into, or what ministry will you continue? How will you glorify our Father in heaven for the coming year?
To participate, simply complete the Commitment Card you will receive in the mail and return it to First Pres at the Welcome Center, drop it in the mail with the pre-addressed stamped envelope we send you, or complete your commitment online using our online giving tool.
We will celebrate all that God is doing through First Pres on October 25 with a drive-by Commitment Card drop-off event where you can not only personally return your Commitment Card, but also bring Thanksgiving food items to fill care baskets for families in need during Thanksgiving.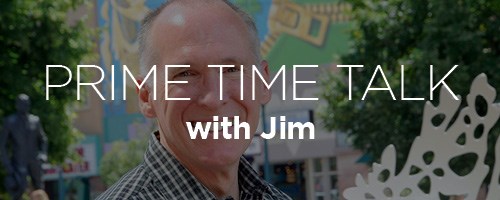 Online Prime Time
Online at 9 a.m. Wednesday, October 14
This month's Prime Time speaker is Jim DeJarnette, our Minister of Worship and Music. Jim will be talking about one of our seven First Pres values: "Live for God." Watch online here beginning Wednesday at 9 a.m. and any time thereafter.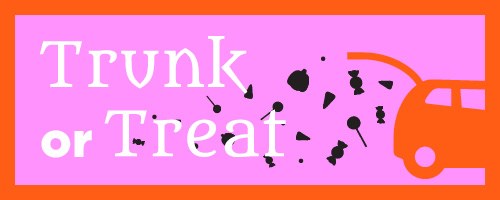 Trunk or Treat
Sunday, October 31, 3-5 p.m. on the Weber Street Lawn
Mark your calendar for Trunk or Treat 2020 on the Weber Street Lawn. Come for a chance to safely collect candy from uniquely decorated trunks in the parking lot. Bring your own water bottle as no drinks will be available. Volunteers are welcome and anyone can sign up to decorate a trunk or just donate candy. Registration coming soon!