19 Ways to Stay Mentally Healthy During COVID-19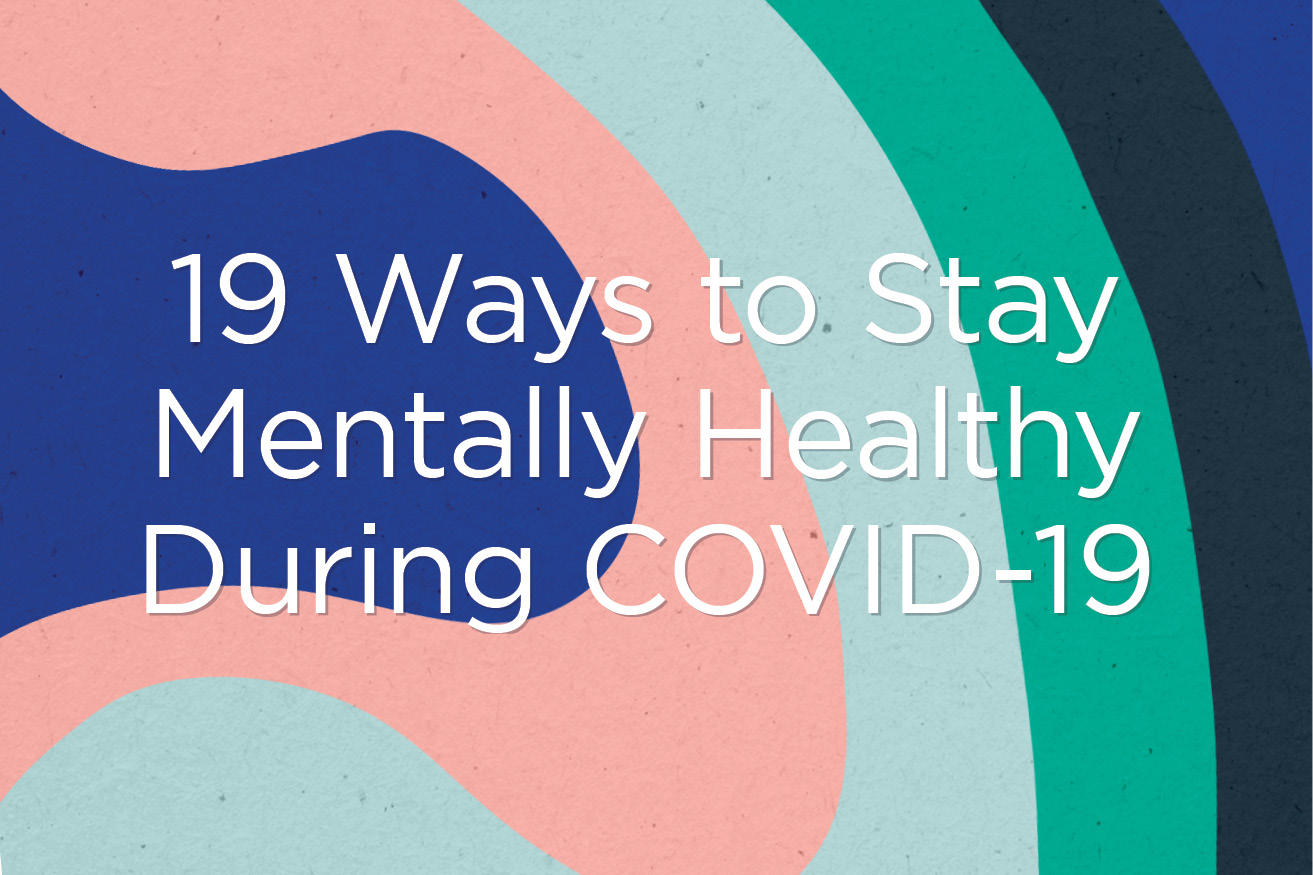 Stress, COVID-19 and Strength in God
Like most of us, I have experienced stress. My family and I moved to Colorado Springs from Mongolia three years ago. In December of 2019, I completed a master's degree in Clinical Mental Health Counseling. Being an international student brought challenges, including navigating language and cultural differences in an academic setting, as well as everyday living, and balancing my studies and family. Then came COVID-19, along with schooling my three children online, completing an internship, and learning the reality of our home country banning incoming flights. Having our move home put on hold was unexpected and stressful! I am thankful for how relevant my studies have been to the current reality created by the pandemic. God has provided many opportunities to use my training to serve not only First Pres, but also Mongolian congregations in Denver, Seattle and Oakland, California. God has been a constant source of strength and faith, as I have struggled with my stress and anxiety. I pray you will find encouragement and helpful resources in this blog post series.
What is Stress?
Stress occurs when there is a real or perceived imbalance between life's demands and our capability to respond to them. While we need some stress to be prepared for life-threatening events, challenges and to protect ourselves and others, prolonged exposure to stress can have long-term detrimental effects on our mental health. Chronic stress triggers long-term changes in brain structure and functioning, making it a risk factor for many mental health issues. It may lead to a downward spiral of more stress, panic attacks, anxiety, burnout, depression, post-traumatic stress disorder (PTSD) and suicidal thoughts. Mental health experts say that fear of the COVID-19 virus, loss of a loved one, isolation, mass quarantine, job loss, financial insecurity and anxiety stemming from uncertainty and unpredictability are creating or exacerbating emotional trauma and mental health crisis on a global scale.
So, what can we do? We need to act now to prevent and protect our mental and emotional well-being from the aftermath of the pandemic crisis. We can do so by learning new healthy skills and gaining a helpful perspective.

Flight or Fight
When you are worried, upset or anxious, you can feel it physiologically, in your whole body. Under stress, your brain releases stress hormones that alarm and prepare us to either "fly" from the threat, or "fight" it. Some of us "freeze," unable to take any action. An ongoing stressful situation may lead to sleep disturbances, fatigue, poor concentration and emotional outbursts. When the fight-and-flight response is activated, your heart starts to beat faster, your muscles tense, and you might feel dizzy. Blood rushes toward the heart and brain, and your breathing becomes quick and shallow. Remember—you can choose to stop what you are doing and start taking care of yourself.

1. Regulate your body first. Calm your nervous system through deep breathing with longer exhalation. Use prayer to help yourself feel grounded and open to the myriad emotions you are experiencing.

2. Recognize and name your feelings, to tolerate strong emotions, and explore productive ways to deal with them. These actions help us access the part of our brain that governs planning, decision-making and self-control. We can move from a reactive state to a more mindful, thoughtful, receptive, empathetic, non-judgmental one, and be compassionate toward ourselves and others.

3. Avoid feeling ashamed or guilty but allow and make space for all emotions. Being honest about our feelings, thoughts and actions—and owning them—helps us to deal with our challenging emotions effectively.

4. Know yourself, your triggers and any unhelpful, negative thinking patterns. Depending on our genetics, family background, life experiences, history of trauma and personality, we react differently to stressful situations. Acknowledge your concern, worries, frustration, what-ifs, sadness and grief, and have a clear look at reality. Ask and honestly answer questions such as:
* What are my fears?
* What are some of my challenges?
* What do I need to navigate this time of change and uncertainty?
* How can I be prepared for the future?
* What is overwhelming right now that I should ask for someone's help with?

5. Intentionally and mindfully engage in reading, praying through and meditating on God's Word.

6. Practicing gratitude, and self-care activities and efforts are essential as you adjust and manage the "new normal." We cannot control the spread of the virus, future uncertainty, or other people. We leave that to God. Instead, ask Him for help in controlling the things you can, like your attitude and your responses to the situation.

7. Recognize the work of the Holy Spirit during this time. We are not created to go through extreme stress alone.

8. Avoid overexposure to media. Information overload may contribute to anxiety, depression and PTSD. Be mindful of the reliability of the sources of the information, how much and how often you are consuming the news.

9. Try to log out from the electronic devices, blue screen light, the news, and images that may disrupt your sleep before bedtime so that you use this time to decompress and switch off entirely.

10. Avoid multitasking, which causes scattered, overstimulated brain functioning. This, in turn, decreases concentration, productivity and efficiency, leading to more stress and anxiety.

11. Take care of the relationship with your family members, spouse, children and friends while maintaining healthy boundaries. It is a time for God's family to reach out to others and care for one another.

12. Look for opportunities to help others and get help from others as you need.

13. Find creative ways to interact with others besides online connections. Online contact requires the brain to process multiple distractions and images at the same time, which is different from face-to-face contact. These physical and mental processes result in "Zoom Fatigue," causing exhaustion, headaches and eye strain as you navigate the screen, camera and the people on the call without the benefit of their body language.

14. Drink plenty of water and eat nutritious, healthy food.

15. Have fun, play, pursue your hobbies.

16. Do something relaxing while listening to soothing music. Research shows that it will lower your heart rate, blood pressure and make you less anxious.

17. Experience and connect more deeply with nature. Go outside for a walk and enjoy being quiet.

18. Exercise helps diminish the perception of pain and lowers stress hormones, resulting in more melatonin in the body. Melatonin helps maintain natural rhythms, improve sleep and your overall mood.

19. If you become unable to manage your stress or function well, seek the assistance of mental health professionals, counselors, pastors and spiritual leaders.
We may have to do things differently temporarily. Life will not be the same after the pandemic. Remember what you are responsible for and what you need to release to God. We can trust in Him to provide for all our needs and to provide comfort and strength.
About Gerelmaa (Gerlee) Batkhuyag
I have been serving with Mongolia Campus Crusade for Christ (MCCC) since 1998 as a full-time staffer in Campus Ministry, as a Finance Department leader, and as a National Leadership Team member. Coaching, teaching and mentoring staff, and leading Bible study groups are a significant part of my ministry at MCCC. I also served in the Military Ministry alongside my husband, Bayarbileg (Bayaraa) Lkhagva, as he was leading the ministry.
My husband and I, with our three children, moved to Colorado Springs from Mongolia in July 2017, for me to get counseling education. I graduated from Colorado Christian University with a master's degree in Clinical Mental Health Counseling in December 2019. Currently, I am doing an unpaid internship at Caring Ministries of First Pres and serving as a volunteer on the counseling staff in Maranatha Mongolian Mission Church in Denver. The purpose of the internship and the volunteer work is to use my clinical counseling preparation and skills to support the church activities of the department and gain practical experience within a Christian ministry or church.
I am also working on developing professional connections and learning about different resources that I can bring back to Mongolia to build capacity for possible implementation in the MCCC ministries and Mongolian churches as well as in a secular setting for opportunities to reach more people for Christ. We will be serving in the Family Life ministry of MCCC when we return to Mongolia this summer. I like to read, do puzzles, travel and play card/board games with my family and friends.
Helpful resources:
Counseling Coalition of FPC, Colorado Springs
The Disaster Distress Helpline, 1-800-985-5990 (Substance Abuse and Mental Health Services Administration) Text "TalkWithUs" to 66746
National Suicide Prevention Lifeline, 1-800-273-8255 
Crisis Text Line, 741741 Text "HOME"
Breathe Hope: Eleven Tips to Promote Mental and Relational Health During Covid-19
Resources for couples and families:
Family Life: When Your Spouse Has a Different Stress Response
Focus on the Family: Family Time During the Coronavirus Quarantine